2014 Hong Kong Police Review
WE SERVE WITH PRIDE AND CARE
[ Foreword ] [ Memorable Events ] [ The Hand of Partnership ] [ Operations ] [ Regional Commanders' Report ] [ Personnel and Training ]
[ Management Services ] [ Professional Equipment ] [ Finance, Administration and Planning ] [ Environmental Report ] [ Organisation ]
[ Annexes and Appendices ]
Finance, Administration and Planning
Enhancing Delivery, Efficiency and Service Excellence
In 2014, the Finance Wing continued to exercise a strong sense of responsibility in the management of financial resources and to place financial authority in the hands of budget holders. The Administration Wing endeavoured to increase the efficiency and cost-effectiveness of Force services and maintained its commitment to promoting good staff relations in the civilian grades. The Planning and Development Branch continued to provide efficient support to the development and implementation of a number of capital works projects for enhancing Police facilities and professional services to the community.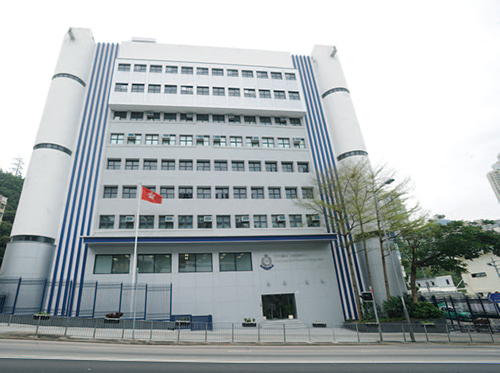 New Detective Training Centre.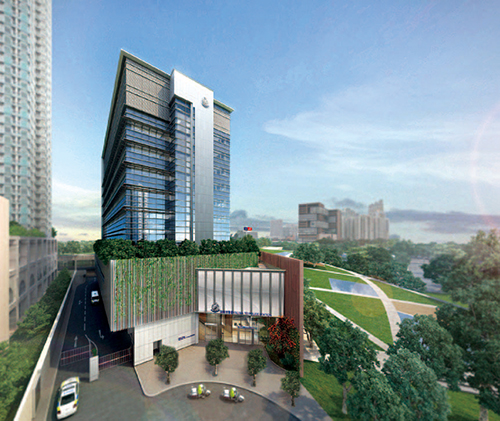 Perspective view of new Yau Ma Tei Divisional Police Station.
Finance Wing
For the financial year ending March 31, 2015, the total expenditure of the Force was estimated to be $15.5 billion, amounting to about 4.6 per cent of the Government's total budget for the year. Of this allocation, salaries and allowances accounted for about $13.2 billion, with the rest being contributed by departmental expenses and capital items. Fines, penalties and other fees and charges are expected to produce about $567 million in revenue.
Under the one-line vote arrangement, expenditure under various traditional sub-heads are now pooled together under the single sub-head of operational expenses. Subject to prescribed conditions, the Force has the flexibility to vire funds among categories under this sub-head without having to seek prior approval. This arrangement continues to considerably facilitate decision-making in resources management.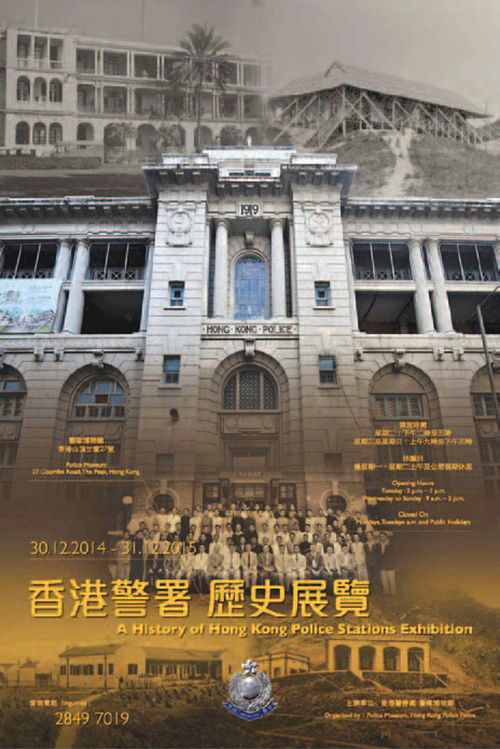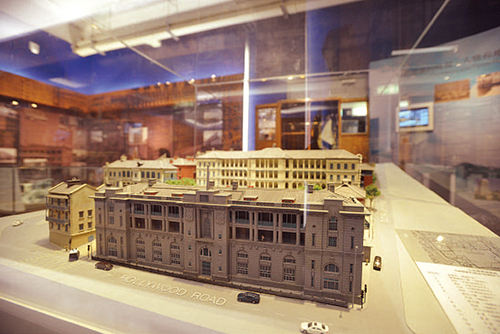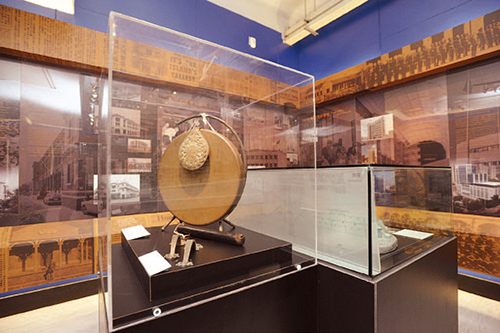 Police Museum holds an exhibition entitled A History of Hong Kong Police Stations.
Administration Wing
The Force has a civilian establishment of around 4,600 staff, providing administrative, secretarial and technical support services to Police operations. A number of initiatives were pursued in 2014 to streamline procedures, optimise deployment of resources and enhance efficiency. These included rationalising deployment of Workmen II, outsourcing of Office Assistant services, and flexible deployment of civilian staff to take up new responsibilities.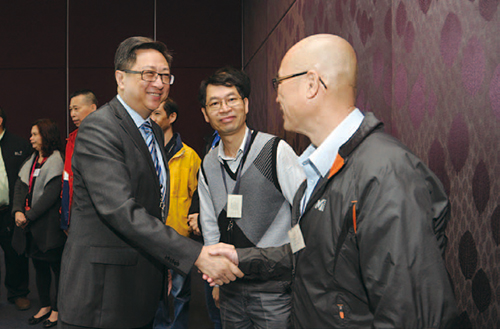 Deputy Commissioner (Management) Lo Wai-chung (first from left) meets civilian staff to enhance communication.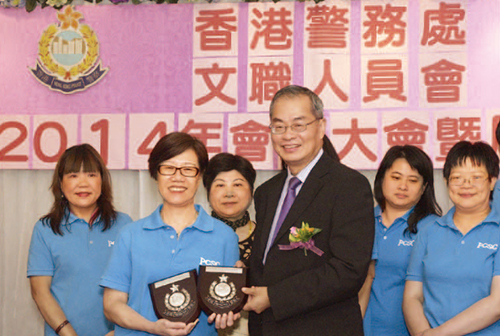 Director of Finance, Administration and Planning Ip Man-fai praises the Police Civilian Staff Club Volunteer Team for its outstanding performance.
Planning and Development Branch
The new Detective Training Centre was opened at the former Lei Muk Shue Operational Base in September. The Centre provides upgraded training facilities.
To make way for the construction of the Shatin to Central Link by MTR Corporation Limited, the Police Officers' Club currently situated on Hung Hing Road, Causeway Bay will be demolished in 2015 and will be reinstated in situ after completion of the Link in 2020. To compensate for the temporary reduction in sports and recreational facilities during this period, enhancement works including construction of a new annex building with additional dining and sports facilities are being carried out in the Police Sports and Recreation Club on Boundary Street. These enhancement works will be completed in 2015.
The existing Yau Ma Tei Divisional Police Station will be re-provisioned to Yau Cheung Road to facilitate the construction of the Central Kowloon Route tunnel. Construction works for the new Police Station commenced in June 2013 and will be completed in 2016. The new station will provide modern facilities for operational staff and a service-orientated New Generation Report Room for members of the public.
The West Kowloon Law Courts Building under construction at the junction of Tung Chau Street and Tonkin Street West will provide 32 courtrooms and Police facilities. Upon commissioning of the building in the second quarter of 2016, the Police accommodation currently at Tsuen Wan Magistrates' Court and Coroners' Courts will be re-provisioned to the new building.
The Force is actively planning to construct a new Kowloon East Regional Headquarters and Operational Base cum Ngau Tau Kok Divisional Police Station on Concorde Road, Kai Tak to meet rising policing needs as a result of infrastructural developments in Kowloon East Region. The project will incorporate various environmentally sustainable designs and the new Police complex will provide up-to-date operational facilities and quality client-based services to members of the public.
With a view to alleviating the substantial shortfall of quarters for Junior Police Officers, the existing Fan Garden Police Married Quarters, Fanling will be redeveloped to provide 1,000 new units for Junior Police Officers before 2020.
Other projects in the planning stage include the construction of a new Tai Kok Tsui Divisional Police Station cum Force Data Centre on Sham Mong Road and the re-provisioning of the Hong Kong Island Vehicle Pound from Quarry Bay to the new Chai Wan Government Complex and Vehicle Depot.
The development of Police facilities at various new boundary crossings, namely the West Kowloon Terminus for the Guangzhou-Shenzhen-Hong Kong Express Rail Link, the Hong Kong-Zhuhai-Macao Bridge and Liantang-Heung Yuen Wai, is making steady progress.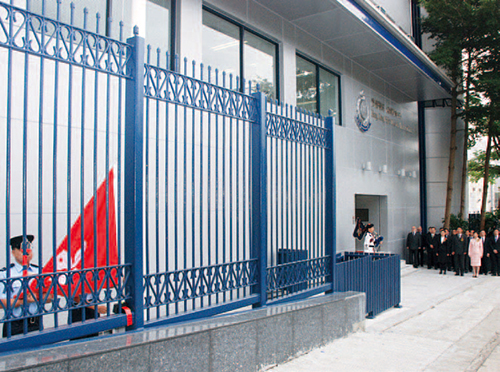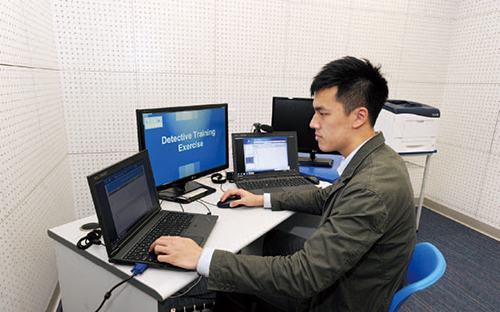 The new Detective Training Centre has formally operated on November 10 providing comprehensive detective training.
[ Top ]