2013 Hong Kong Police Review
WE SERVE WITH PRIDE AND CARE
[ Foreword ] [ Memorable Events ] [ The Hand of Partnership ] [ Operations ] [ Regional Commanders' Report ] [ Personnel and Training ]
[ Management Services ] [ Professional Equipment ] [ Finance, Administration and Planning ] [ Environmental Report ] [ Organisation ]
[ Annexes and Appendices ]
Regional commanders' report
Implementing Co-ordinated Responses to Policing Challenges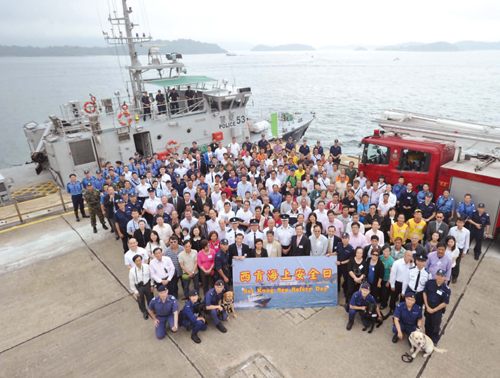 Marine Police in conjunction with partners host a Sea Safety Day to promote marine safety.
In 2013, the Regions continued to rise to the complex challenges of effective policing in the modern world in order to serve the people of Hong Kong with pride and care. The intelligence-led fight against crime was supported by proactive multi-agency partnerships and deepening engagement with various sectors of the community. A series of publicity campaigns and educational programmes were launched to enhance public awareness of crime prevention and road safety. In order to better manage the challenges arising from the expansion of Hong KongÕs infrastructure and railway network, the Regions continued to implement a coordinated strategy to mitigate the impact of these works on local communities and the road system.
Marine Region
Marine Region continued to review its existing fleet with the aim of replacing some older craft in order to maintain a fleet of fuel-efficient, high performance vessels that can provide a fast and effective response in the execution of statutory duties.
Combating illegal immigration remained a regional priority, resulting in the arrest of 1,674 illegal immigrants in the waters of Hong Kong. The syndicated smuggling of high-value contraband such as computer components and imported seafood by high-powered speedboats continued to be an issue for the Region. Operations in conjunction with other Government departments and Mainland authorities were undertaken to tackle smuggling activity, resulting in the confiscation of 11 high-powered speedboats and the seizure of contraband worth $38.8 million.
Marine Outer Waters District launched various initiatives, such as Sea Safety Day and the No Drugs Charter to promote the awareness of sea safety and prevent crimes at sea. The Region continued to work closely with other Government departments and the local community to enhance sea safety. During the year, Marine Police officers rescued 198 persons at sea.
Marine Region officers and Marine Port District officers were awarded the Chief ExecutiveÕs Commendation for Government (Public Service) and the Commissioner of PoliceÕs Formation Commendation respectively for their outstanding performance during the rescue operation off Lamma Island that occurred on October 1, 2012.
The Cheung Chau Police Station celebrated its 100th Anniversary on November 9.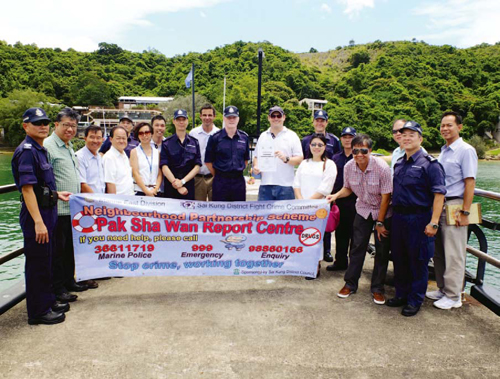 Marine Police rolls out a Neighbourhood Partnership Scheme to engage the community.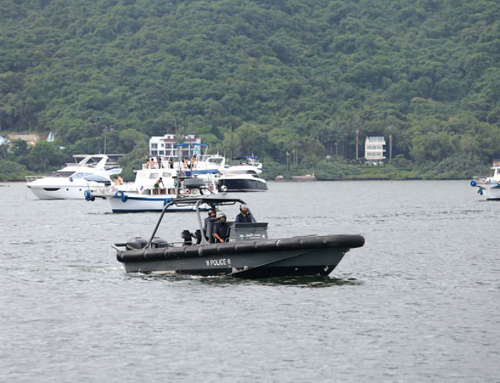 Marine Police steps up sea patrols.
Hong Kong Island Region
In 2013, Hong Kong Island Region continued to safeguard public order and safety for over 3,000 public order events including the July 1st procession; protests related to the dock workersÕ strike and the issue of new television licences; and the Hong Kong Marathon and other festive events held in Lan Kwai Fong, Victoria Park and Central Waterfront Promenade. Building on valuable experience gained over the years, the Region continued to carefully balance the publicÕs right of expression with maintenance of other activities. At the same time, the Region ensured that sufficient resources were deployed for watch and ward duties, crime investigations and managing the IslandÕs traffic flow.
The overall crime situation remained stable in the Region with a slight increase of 1.3 per cent as compared to 2012. Significant decreases were recorded in several key crimes including robbery, burglary and criminal damage. As a result of successful intelligence-led policing, triad and narcotics related crimes dropped appreciably by 41.7 per cent and 6.1 per cent respectively.
Maintaining road safety and reducing traffic congestion on the complex road network of Hong Kong Island remained high priorities for the Region. Through effective traffic management and sustained efforts in carrying out stringent enforcement actions, traffic congestion was alleviated. Accident fatalities and injuries were reduced by 23.5 per cent and 1.2 per cent as compared to 2012.
The Region adopted a proactive partnership approach towards crime prevention. Elderly volunteers were recruited in the Deception Alertness Through Caring campaign for disseminating crime prevention messages aimed at enhancing senior citizensÕ awareness of street deception, telephone scams as well as other common crimes. Junior Police Call and Senior Police Call members were also involved in the regional road safety campaign and Operation EAGLEHUNT against quick cash crimes at tourist spots.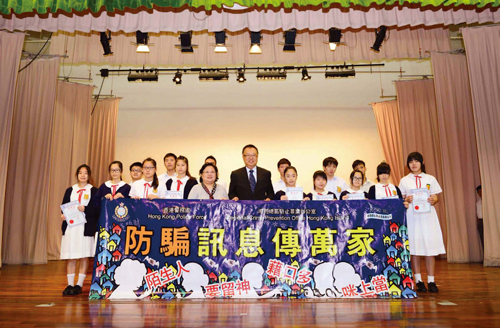 Hong Kong Island Regional Crime Prevention Office organises Deception Alertness Through Caring campaign to educate students to convey antideception messages.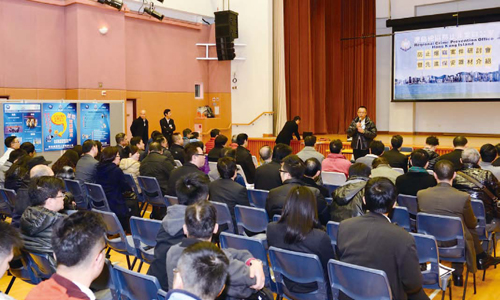 Hong Kong Island Regional Crime Prevention Office hosts a seminar on the prevention of burglary for building management companies and security personnel in order to heighten their awareness of security.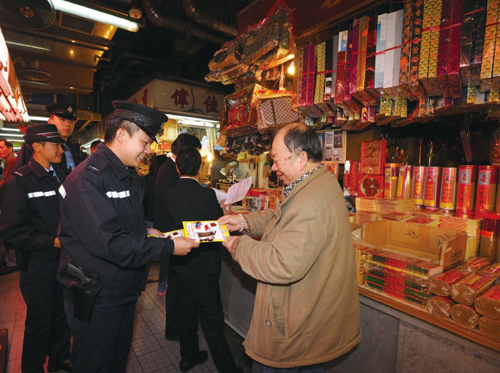 Police officers distribute anticrime leaflets to shops.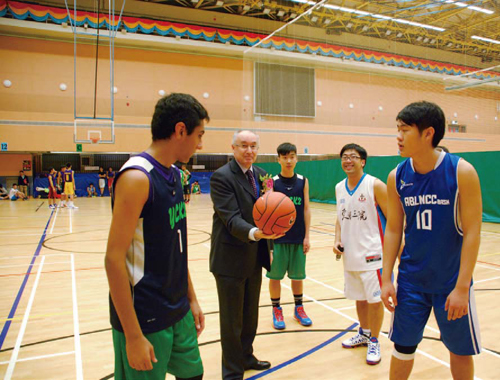 Western District holds a ThreeonThree Basketball Competition aiming at keeping youngsters away from dangerous drugs.
Kowloon East Region
In 2013, Kowloon East Region recorded a 6 per cent decrease in overall reported crimes with a significant reduction in key crimes, including robbery, burglary and miscellaneous thefts. Efforts to combat triads, drug trafficking, youth crimes and debt collection related crimes continued with a series of intelligence-led operations.
During the year, the Region continued to adopt a multi-agency approach to address potential policing problems. Kwun Tong District, Kwun Tong District Fight Crime Committee and non-governmental organisations launched the Fight Crime Ambassadors programme. The aim was to raise crime prevention awareness of senior citizens and engage them in fighting crime. Meanwhile, in collaboration with the Education Bureau and schools, Police volunteers actively participated in Project Self-discipline Unit, which aims to reinforce positive values and the self-image of youngsters through an array of life experience sharing and training programmes.
The expanding railway network presents an ongoing policing challenge to the Region. Engaging various key stakeholders in policing not only helps prevent and detect crimes, but also strengthens the response capability of officers to deal with major incidents and disasters occurring in the mega underground transport system.
The presence of a large cycling track network along Tseung Kwan O South Waterfront Promenade is a special feature of the Region. With cycling becoming such a popular sport, the Region and District Council organised various safe cycling programmes for the public. The Traffic Kowloon East Bicycle Team has been formed to raise public awareness of safe cycling.
Following the opening of the Kai Tak Cruise Terminal, a Police Reporting Centre manned by officers from Ngau Tau Kok Division has been set up to provide reporting facilities to overseas tourists. The Centre is equipped with an Operations Room for command and control at the terminal in the event of emergencies.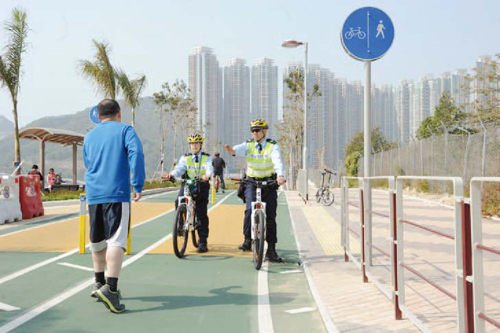 Traffic Kowloon East Bicycle Team officers patrol along the cycling track of Tseung Kwan O South Waterfront Promenade.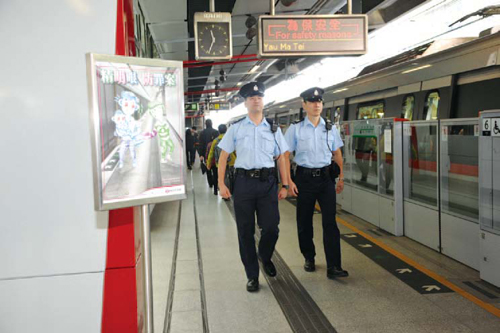 Railway District takes effective measures to counter quick cash crimes.
New Territories North Region
In 2013, the overall crime situation in New Territories North Region remained stable. As a result of stringent enforcement actions, triad, violent and debt collection related crimes recorded a decrease.
During the year, the Region continued to focus on forging close links with different sectors of the community through an array of engagement projects. Yuen Long District launched Project Himalaya to improve the Chinese proficiency of non-ethnic Chinese Junior Police Call members and stimulate their enthusiasm for joining the Force by way of a mentorship programme. Local elderly villagers in Tai Po District were recruited under Project Village Watch as crime prevention ambassadors while dedicated Police hotlines were provided for project partners to report non-emergency crime related information. Regional Crime Formation organised a large-scale symposium to promote public awareness of technology crime and enhance internal professionalism.
The RegionÕs response capbaility to major incidents and disasters was enhanced in an inter-departmental exercise called FIRESWEEPER III. The exercise comprised a table-top exercise and an extensive field exercise, both of which were conducted in real time. Over 800 persons from 10 Government departments and two private companies participated in the exercise. Joint-departmental operations targeting general merchandise operators in Sheung Shui continued during the year.
Following the second stage of opening up the Frontier Closed Area between Lok Ma Chau Boundary Point and Ng Tung River in June, a revised policing plan was implemented to address boundary security, law and order, and traffic arrangement in the newly released area.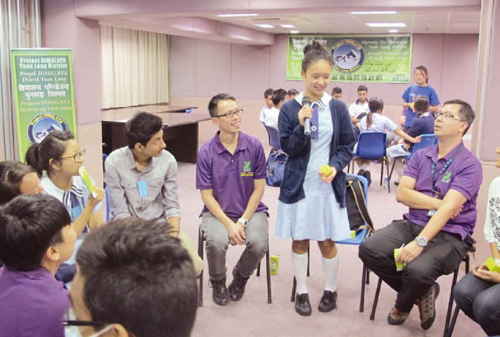 Project Himalaya of Yuen Long District stimulates the enthusiasm of nonethnic Chinese Junior Police Call members to join the Force.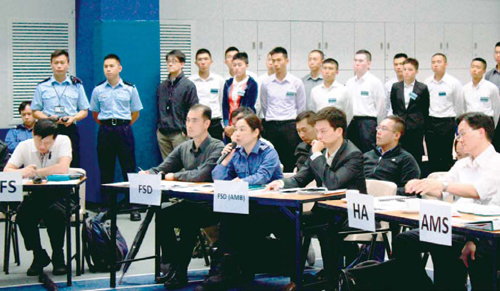 New Territories North Region conducts a multiagency exercise FIRESWEEPER III involving several Government departments.
New Territories South Region
In 2013, New Territories South Region recorded a 2.5 per cent drop in reported crimes with significant reductions in a number of key areas, namely triad related crime, quick cash crime and dangerous drug offences. The Region continued to apply intelligence-led policing and an integrated approach to tackle prevalent problems.
With the trust and support of the public, the Region successfully promoted community engagement in policing through the launch of several notable crime prevention initiatives, particulary for the youth and the underprivileged.
Working closely with non-governmental organisations, the Region introduced Project R, which provided immediate referral services for arrested persons under the age of 18 and gave support to their families. Also, Project Positive Link assisted local non-ethnic Chinese students to learn Chinese and to facilitate their integration into the community.
Project New Dawn launched by Kwai Tsing District provided support for people with mental health issues and their families. Through strengthening training for frontline Police officers, the early identification of cases and a multi-disciplinary approach towards intervention, the project reduced the number of untoward incidents involving people with mental health issues.
It was awarded locally the Gold Prize of the Specialised Service Team Award of the Civil Service Outstanding Service Award Scheme 2013 and was ranked the first runner-up for the Annual Community Policing Competition and Conference in 2013 organised by the International Association of Chiefs of Police in the United States.
Being the transport hub featuring key infrastructures such as the Hong Kong International Airport and the container ports, the Region worked closely with relevant stakeholders to uphold security and maintain a smooth traffic flow.
New infrastructural developments, such as the Hong KongZhuhaiMacao Bridge, provide new challenges which are being actively addressed by the Region.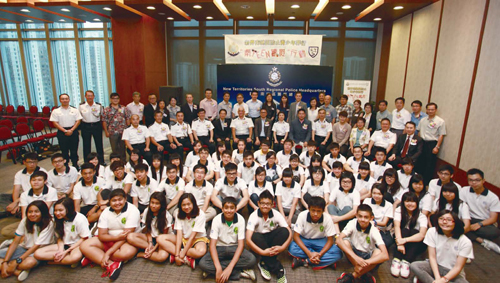 New Territories South (NTS) Region launches a Summer for NTS Teens campaign to disseminate anticrime messages to youngsters.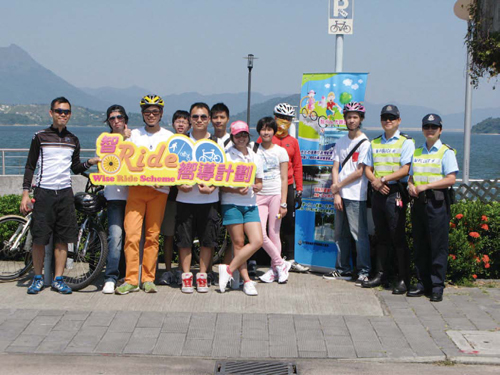 Traffic NTS holds a Ride Safe Cycling Campaign to promote cycling safety.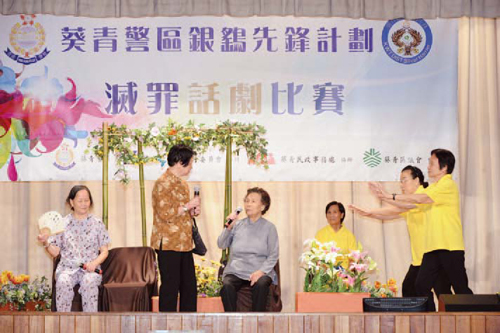 Kwai Tsing District Project Silver Harrier promotes antideception messages to seniors through a drama competition.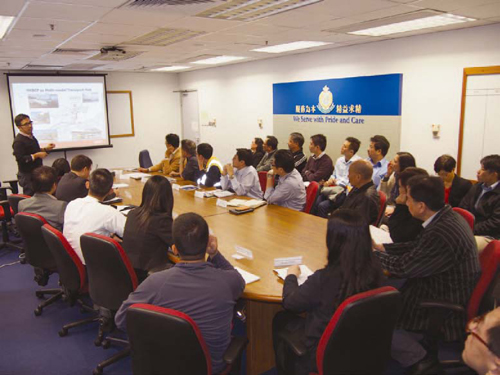 NTS Regional Crime Prevention Office hosts a sharing session on the security of the Hong KongZhuhaiMacao Bridge Project to establish a good communication channel between the Police and stakeholders.
Kowloon West Region
Kowloon West Region saw a decrease of 6.7 per cent in overall crimes in 2013, which was mainly due to preventive policing in close partnership with the community.
About 38 per cent of the territory's liquor licensed premises and almost 51 per cent of the territory's upstairs bars are located in the Region. This intensive cluster of entertainment venues offers policing challenges that are unique to the Region.
The Emergency Unit of Kowloon West Region has been a participant in the field trial of Body Worn Video Cameras since March. Each emergency response vehicle has at least one officer equipped with this camera to make a video recording of incidents where there is conflict, disturbance or violence near to places of entertainment.
During the year, a number of innovative projects were carried out with community support, such as the Kowloon West Youth-Care Committee focusing on the needs of youth at risk; Project Gemstone that aims to improve communication with the non-ethnic Chinese community; and Senior Police Call and the Neighbourhood Veteran groups that engage the elderly to prevent crimes.
The Region continued to deploy suitable manpower and appropriate crowd and traffic safety measures to ensure public safety and public order during the public meetings and processions in 2013 and at the same time enable participants to express their views.
Project Report Easy launched by Mong Kok District enhanced the service efficiency of the report room. The project won the Gold Prize for Departmental Service Enhancement Award at the Civil Service Outstanding Service Award Scheme 2013.
The number of major infrastructural projects in Kowloon West Region continued to challenge the Region to keep construction traffic to a minimum on the road. A multi-agency approach was adopted by all stakeholders to mitigate the impact of these projects on the public.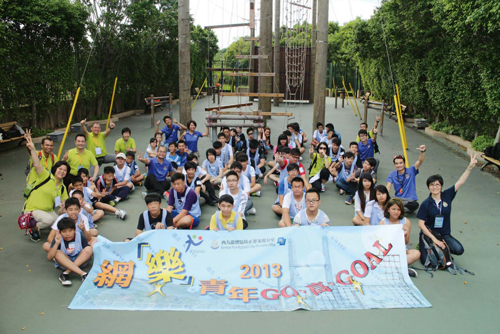 Kowloon West Regional Crime Prevention Office holds a rope course to strengthen younsters' resilience.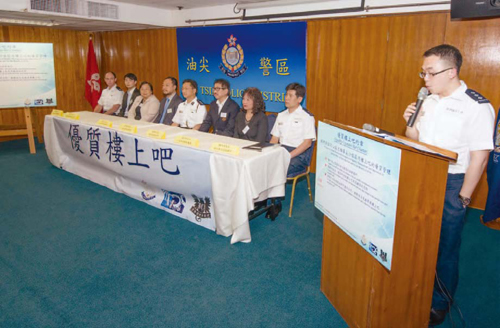 Yau Tsim District inspires upstairs bar representatives to implement quality bar management.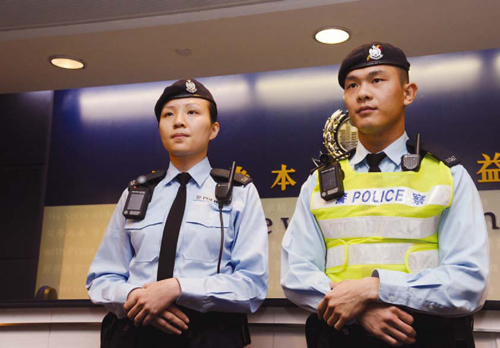 Kowloon West Emergency Unit tries out the Body Worn Video Camera Field Trial with the aim of ensuring greater transparency in the investigation of all incidents.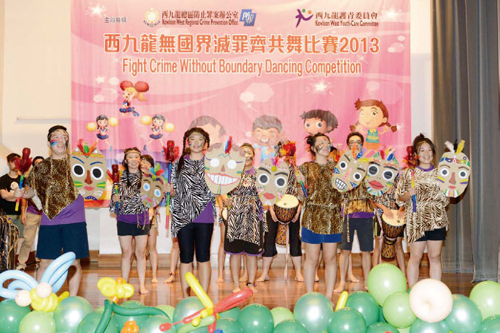 Kowloon West Regional Crime Prevention Office holds a Fight Crime Without Boundary Dancing Competition for nonethnic Chinese youngsters to encourage cultural exchange.
[ Top ]