2013 Hong Kong Police Review
WE SERVE WITH PRIDE AND CARE
[ Foreword ] [ Memorable Events ] [ The Hand of Partnership ] [ Operations ] [ Regional Commanders' Report ] [ Personnel and Training ]
[ Management Services ] [ Professional Equipment ] [ Finance, Administration and Planning ] [ Environmental Report ] [ Organisation ]
[ Annexes and Appendices ]
Vision, Common Purpose & Values
Vision
That Hong Kong remains one of the safest and most stable societies in the world
Common Purpose
The Hong Kong Police Force will ensure a safe and stable society by
> upholding the rule of law
> maintaining law and order
> preventing and detecting crime
> safeguarding and protecting life and property
> working in partnership with the community and other agencies
> striving for excellence in all that we do
> maintaining public confidence in the Force
Values
> Integrity and honesty
> Respect for the rights of members of the public and of the Force
> Fairness, impartiality and compassion in all our dealings
> Acceptance of responsibility and accountability
> Professionalism
> Dedication to quality service and continuous improvement
> Responsiveness to change
> Effective communication both within and outwith the Force
Foreword
It gives me great pleasure to introduce the Hong Kong Police Review 2013. A documentary of our work aside, you will find in this report, story after story, our values and our unflinching commitment to serve Hong Kong with pride and care.
TSANG Wai-hung
ommissioner of Police
Hong Kong being a pluralistic society and a cosmopolitan city, the challenges we faced in 2013 were many and varied. Yet, overall crime fell to its lowest level in more than a decade. There were 72,911 crimes of which 12,153 were classified as violent crimes, representing decreases of 4.0 per cent and 5.2 per cent respectively in 2012. The per 100,000 population overall crime and violent crime rates also improved to 1,015 and 169. In fact, the violent crime rate has now dropped to a level we have not seen since the early 1970s. Crimes such as robbery, wounding and serious assault, burglary, theft and youth and juvenile crime all recorded substantial decreases. There were no cases involving the use of genuine firearms in 2013. Although increases were recorded in serious drug offences, technology crime and deception, it is clear that in 2013 Hong Kong was a safe city in which to live and work. Apparently, this was also the conclusion of surveys conducted by the World Economic Forum and the World Justice Project in 2013.
The law and order situation of any place owes much to the efforts of its police service. The same is true of Hong Kong where the Force earnestly prepares itself for rising to the many changes and challenges as it fulfils its duty of ensuring the security and stability of this great city. This starts with thorough planning at both the strategic and operational level and ends with skilful implementation by a workforce that is well-motivated, well-trained and well-equipped, through good leadership and effective command and control. Quality management, from systems to processes, forms the bulwark of a modernised and professional police service that fervently strives to meet the needs and expectations of the community in a rapidly changing environment. This sees the Force continuing to win international acclaim, a solid example of which was the Force becoming the first organisation in Hong Kong to be awarded the Global MAKE Award (Independent Operating Unit). All of this activity is geared towards the fulfilment of our common vision that Hong Kong remains one of the safest and most stable societies in the world.
I must also acknowledge the vital contribution that our law-abiding community makes towards the security and stability of Hong Kong - from Good Citizens who come forward to help us fight crimes, to community leaders, professionals and academics who join us in our crime prevention and publicity campaigns. The communityÕs strong support for the ForceÕs work and its willingness to work in partnership with us manifests itself in many ways and on many different levels from the long-established Junior Police Call to the newly-established Senior Police Call and from promoting safe neighbourhoods to promoting road safety.
Policing is not just about upholding the law professionally, although the Force is rightly held accountable for maintaining law and order. Increasingly, the community also looks to Police officers for solutions to other complex social problems to which there may be no easy answers. Such is the basis of our multi-disciplinary approach. Willingness to shoulder this responsibility, to Ôgo the extra mileÕ and to use our training and experience to help resolve these problems lie at the heart of our commitment to serve Hong Kong with pride and care.
The Force is a caring organisation and is committed to fulfilling its statutory as well as social responsibility. The Hong Kong Council of Social Service has awarded us its Caring Organisation logo every year since 2005. 2013 also marked the fourth year in which the Force was additionally honoured with the Five Years Plus Caring Organisation Logo. Since its inception, Force runners have been taking part in the Law Enforcement Torch Run to raise money for the Special Olympics; more than 1,300 ran in May 2013. In June 2013, the Force was awarded the Third Top Donor (Civil Service Category) at the Community Chest annual awards ceremony. Since the 1990s, the Police Force has been a stern supporter of the annual charity fund-raising drive Operation Santa Claus. On a slightly different note, the Police Dog Trial in November 2013 raised funds for the Society for the Prevention of Cruelty to Animals (Hong Kong) and Operation Santa Claus. The Force also encourages individual Force members and their families to participate in volunteer work and the Police Volunteer Service Corps (PVSC) now comprises over 40 teams with more than 4,000 members. In October 2013, the Agency for Volunteer Service recognised the PVSC as one of the most outstanding volunteer groups at its Fifth Hong Kong Volunteer Award ceremony.
I would like to express sincere gratitude to my Police colleagues for their dedication and professionalism and to our law-abiding community as well as to the many people from all walks of life who help us in fulfilling our vision. Without your trust and support, none of the achievements of 2013 would have been possible.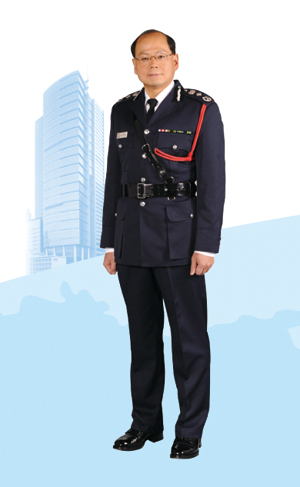 Commissioner of Police TSANG Wai-hung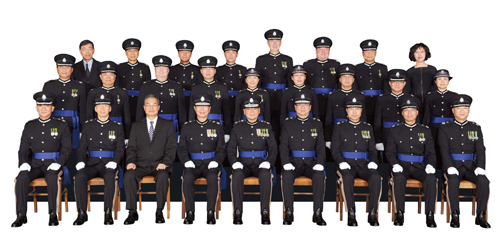 Force senior officers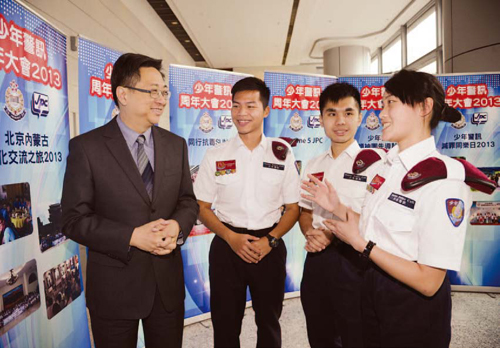 Deputy Commissioner of Police (Operations) LO Wai-chung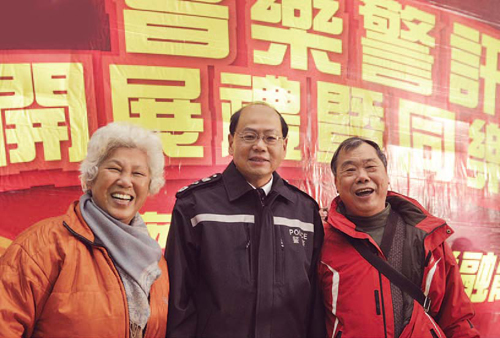 Commissioner of Police TSANG Wai-hung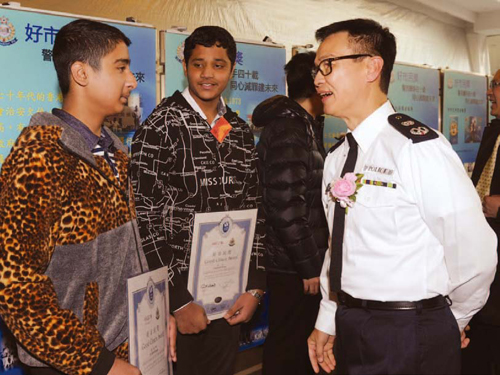 Deputy Commissioner of Police (Management) MA Wai-luk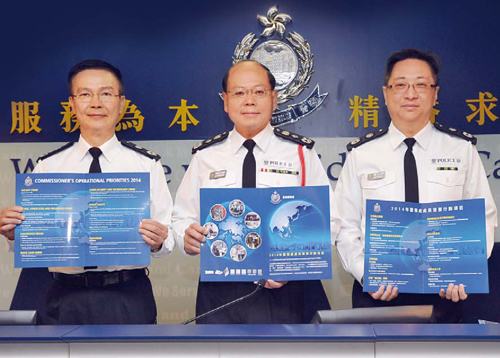 Commissioner of Police TSANG Wai-hung (centre); Deputy Commissioner of Police (Management) MA Wai-luk (left); Deputy Commissioner of Police (Operations) Lo Wai-chung
[ Top ]