2016 Hong Kong Police Review
WE SERVE WITH PRIDE AND CARE
[ Foreword ] [ Memorable Events ] [ The Hand of Partnership ] [ Operations ] [ Regional Commanders' Report ] [ Personnel and Training ]
[ Management Services ] [ Finance, Administration and Planning ] [ Environmental Report ] [ Organisation ]
[ Appendices ]
Regional Commanders' Report
Upholding the Principles of Law and Order
In 2016, the Regions continued to devote their efforts to upholding the rule of law, maintaining law and order, and serving Hong Kong society with pride and care. The concerted efforts of the Force to fight crime were enhanced through initiatives by which it engaged with different sectors of the community and participated in multi-agency partnerships. A series of publicity campaigns and educational programmes were also launched with the aim of enhancing public awareness of crime prevention and road safety.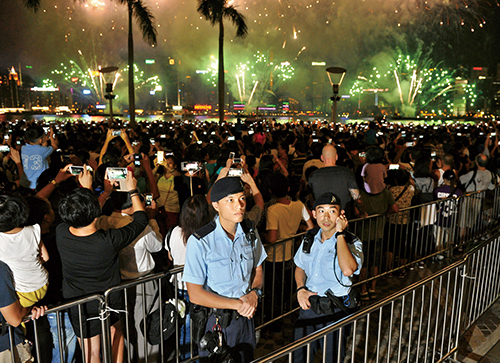 Hong Kong Island Region
With responsibility for the city's political and business hubs, the Region faced challenges from the increasing number of public order events (POEs) and similar activities that took place during the year. In response, the Region worked to strengthen the competence of officers of all ranks in handling POEs, developed scalable deployment plans for managing POEs, and established new Evidence Gathering Teams to improve the collection of evidence from POE operations.
The Region provided significant policing resources for a large number of annual festive celebrations and international sporting events during 2016. These included the Tai Hang Fire Dragon Dance, the Lunar New Year Flower Market, the Standard Chartered Hong Kong Marathon, and the FIA Formula E Hong Kong ePrix. As part of its road safety and traffic management responsibilities, it also took robust enforcement action against drivers exhibiting irresponsible behaviour, posing a danger to other road users, or hindering smooth traffic flow. Its work in this regard has received positive feedback from different sectors of the community.
Community engagement has remained a key goal of the Region. One such initiative during the year was the refurbishment of the Peak Police Station, and the setting up of an exhibition gallery with a range of fascinating historical exhibits. In late 2016, Open Days in celebration of the 130th Anniversary of the Station were held which attracted thousands of visitors from all walks of life. By enhancing public understanding and appreciation of the Police Force, the Open Days helped deliver a positive image of the Force to the community.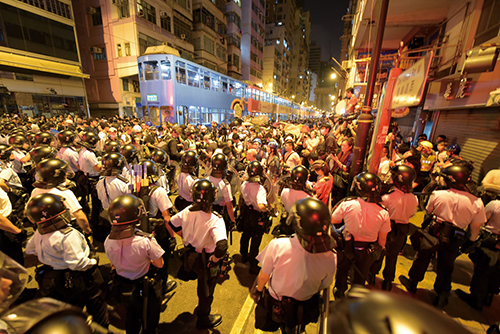 Officers performing duties at public order events.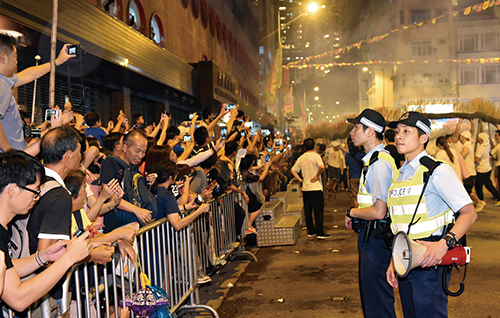 Officers performing duties at public order events.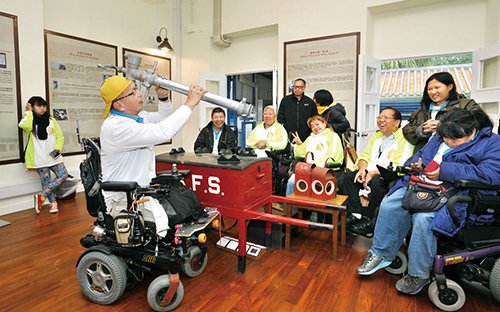 Visitors viewing exhibits at an open day held at the Peak Police Station.
Marine Region
With a total of 118 vessels – the largest fleet of any government department in Hong Kong – the Marine Police is responsible for maintaining law and order within HKSAR territorial waters, and for ensuring the integrity of its 191 kilometre-long sea boundary. It has policing responsibility for the 1,651 square kilometres of Hong Kong's waters, including its outlying islands.
In 2016, the Marine Region continued with its multi-stage modernisation programme to replace approximately 57 per cent of the vessels in its fleet. This will strengthen the Region's operational capability and enable it better to tackle evolving maritime challenges over the next two decades in areas such as maritime security, search and rescue, and combat against smuggling and illegal immigration.
The Marine Region has also begun to introduce a high-tech mobile data transmission system known as the Marine Situational Awareness System. This system, which is being implemented in phases, will enhance the Region's overall command and control capabilities by giving it the ability to integrate and share real-time information with other existing police resources.
The most significant challenges in the year under review for the Marine Police have been illegal immigration, particularly involving non-ethnic Chinese (NEC), cross-boundary smuggling, and the threat of terrorism. There has however been a downward trend in the number of NEC illegal immigrants in the second half of the year, as a result of the Marine Region's close working partnerships with other law enforcement agencies, coupled with the effects of the latest legislative amendments and enhanced penalties imposed on human traffickers by the courts.
The Marine Police will continue to expand its extensive network of contacts in Hong Kong and abroad by sending officers to international and regional conferences, and by conducting bilateral visits to other coastguard units. Locally, the Region is looking to further improve sea safety and reduce accidents at sea through a range of community involvement, engagement and education initiatives.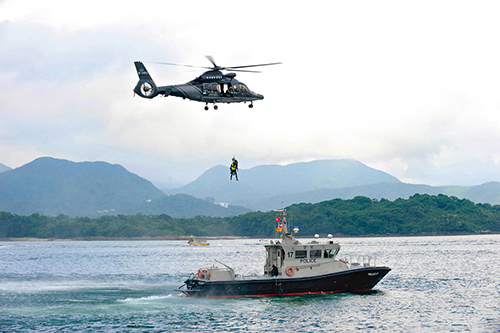 Marine Region and Government Flying Service officers simulated the rescue of an injured man from the sea during the Sai Kung Sea Safety Day.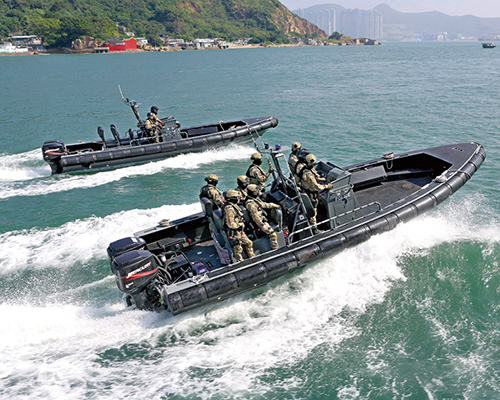 Marine Small Boat Division officers using Fast Pursuit Craft in an anti-smuggling and anti-illegal immigration operation.
Kowloon East Region
In 2016, Kowloon East Region saw its overall crime rate drop by 10.6 per cent when compared with 2015. Certain key crimes, including wounding, serious assault and burglary, recorded significant decreases.
The Region worked hard to combat telephone deceptions, especially the 'Pretend Official' type of deception that has aroused public concern in recent years. To enhance public awareness of the prevailing modus operandi for this kind of deception, the Region formulated a range of publicity and education strategies in collaboration with its long-term partners. These included the prompt dissemination of updated messages about modus operandi and scam prevention through various social media platforms. The Region also co-operated closely with law enforcement agencies outside Hong Kong and exchanged intelligence with them, in moves that were helpful in effectively deterring this kind of cross-jurisdictional crime.
The Region regularly engages with stakeholders from different sectors of the community in order to build up mutual understanding and develop solid partnerships. In 2016, one way the Region did this was by holding a series of open days at various police stations. These involved participation by local dignitaries, school teachers and students, district leaders and government officials, and attracted many members of the public.
Kowloon East Region has continued to build rapport with local young people. To identify those at risk of drifting into crime, Operation CAPESTONE was mounted. This operation involves undertaking early intervention to prevent youth crime, as well as giving assistance to young people through co-operation with non-government organisations (NGOs). Another project aimed at young people was Project ANIMATE, launched to reach out to youth and instil in them a sense of self-worth through care for animals. Police Tactical Unit Kowloon East organised a variety of sports events with secondary schools, at which officers were able to share their work experience and help instil positive values in the students.
The mass intake of residents for two estates in the Anderson Road Development in Sau Mau Ping District is estimated to be fully completed in late 2017. This will see the area experience a population growth of around 48,000. Seven new beats will be created to cater for the future policing demands of the new community, and beat duties have been strategically enhanced to increase flexibility. In the light of the population surge in the area, Project ON TAT was launched in April 2016. This initiative involves the Region partnering with the Social Welfare Department and various NGOs to engage proactively with residents as they move into the estates. The aim is to tackle up front anticipated social problems that could subsequently develop into crime, especially domestic violence, thus helping to develop a safe and harmonious neighbourhood.
Elderly pedestrians are the most vulnerable group of road users, and they have remained a focal point of Police attention. Traffic Kowloon East has worked in tandem with the Transport Department, District Councils and the Hong Kong Road Safety Patrol to organise a series of education and publicity activities to raise public awareness of pedestrian and cycling safety. These activities included cycling workshops for Senior Police Call members, and a visit to the Vehicle Detention and Examination Centre in Kowloon Bay.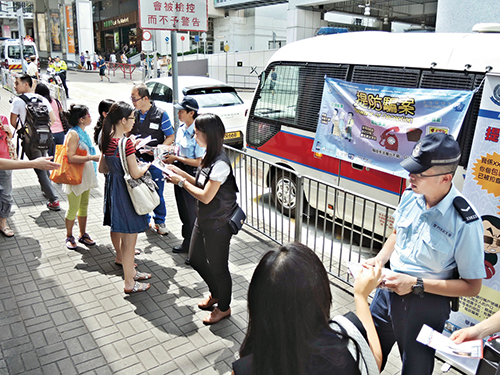 Kowloon East officers distributing anti-telephone deception leaflets to the public.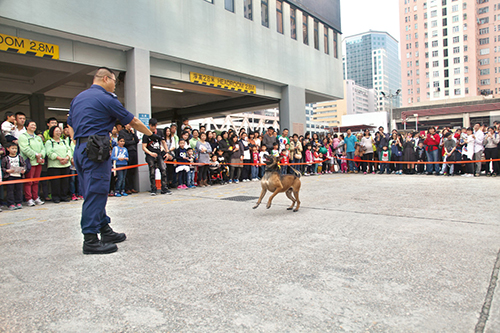 The Police Dog Unit performed at an open day at the Kowloon East Operational Base.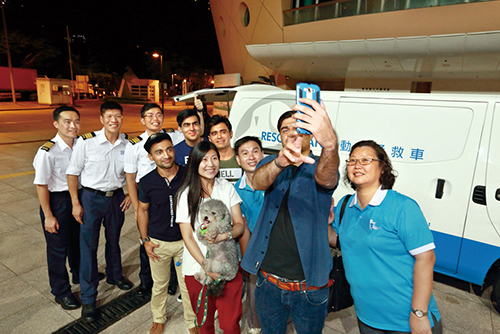 Non-ethnic Chinese youngsters participating in a Project ANIMATE night market activity.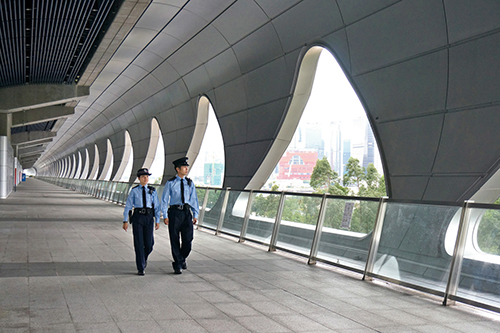 Officers patrolling at Kai Tak Cruise Terminal.
Kowloon West Region
In 2016, the overall crime rate in Kowloon West remained stable. Certain key crimes, such as burglary and technology crime, recorded significant decreases.
The Region's efforts to engage with all sectors of the community continued in 2016, with the extension of Project VanGUARD to the hotel industry. This initiative is aimed at extending and strengthening the Force's intelligence and communication networks to achieve better crime prevention. To reduce street-level and 'quick cash' crimes, the Region collaborated with the community through various Hawker Charters, which engaged with hawkers in locations such as Ap Liu Street and Temple Street and enlisted support from local stalls and shop owners for the purposes of crime control and prevention.
Meanwhile, Project GEMSTONE continued to operate, providing a valuable platform for NEC young people. This initiative aims at enhancing their knowledge of the Force as well as boosting their Chinese language skills, helping them meet the Chinese language requirement for joining the civil service. The project has yielded very satisfactory results in terms of promoting integration between local and NEC communities.
Large-scale infrastructure development projects such as the Express Rail Link, the Kowloon West Cultural District, the MTR's Shatin to Central Link and the newly completed Kwun Tong Line Extension, all created challenges for traffic management during the year. The Region's officers worked tirelessly to ensure the safety of all road users and maintain smooth traffic flows. Assisted by members of the Junior Police Call and the Senior Police Call, the Region delivered regular road safety messages to the public.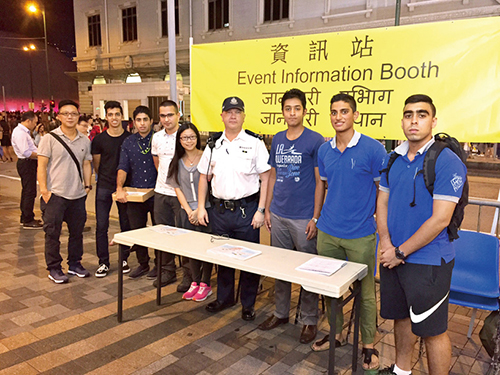 Project GEMSTONE members assisted in distributing anti-crime leaflets and answering public enquiries during the National Day fireworks show.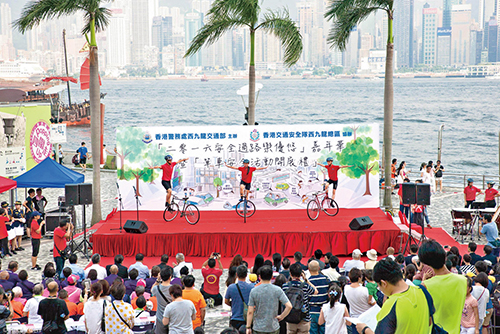 To disseminate safe cycling and road safety messages, Traffic Kowloon West staged the Carnival on Safe and Joyful Crossing.
New Territories South Region
In 2016, New Territories South Region continued its efforts in preventing crime, detecting crime, and maintaining public order and safety. The Region recorded a significant decrease of 15 per cent in the number of reported crimes. In particular, deception, other miscellaneous thefts and criminal damage decreased by 33.7 per cent, 21.3 per cent and 10.1 per cent respectively.
The Region's Operation STORMBREAKER is tackling the issue of youth crime through a range of responses that include preventive education, law enforcement, and community co-operation initiatives. The Region worked with NGOs and schools to organise over 180 crime prevention activities, attracting the participation of more than 9,890 young people. The Police also stepped up law enforcement action aimed at youth crime, resulting in 45 crime cases being detected and 79 youth offenders being arrested.
The Region has been making especial efforts to engage with NEC communities, in particular NEC youth. Under its Project GO FRONT, Kwai Tsing District arranged a series of capacity building workshops, sports and recreational activities, crime prevention campaigns and social engagement programmes targeting NEC youth. The project also helped raise awareness among police officers of the needs of NECs, and open up robust communication channels.
The Region remains committed to maintaining public safety in emergency situations. In January, Tsuen Wan District, Traffic New Territories South, the Police Tactical Unit and the Quick Reaction Force New Territories North conducted an inter-departmental operation with the Government Flying Service and Fire Services Department to rescue over 120 people stranded on Tai Mo Shan in extremely cold weather conditions. The 19-hour rescue operation was an excellent demonstration of the professionalism and commitment of the Police in protecting the safety of members of the public.
The contributions made by officers of the Airport District to ensuring the safe and efficient flow of passengers, cargo and aircraft at the Hong Kong International Airport were specially commended by the Airport Authority. Following the promotion of the concept 'Security is Everybody's Business' across the Airport community under Project Pre-empt during the year, the Airport District was awarded the Airport Authority's Cross-Company Excellence Award – Certificate of Appreciation.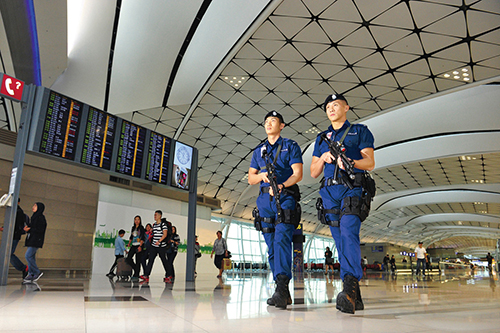 Contributions made by Airport District officers to ensuring safe and efficient flow of passengers, cargo and aircraft were commended by the Airport Authority.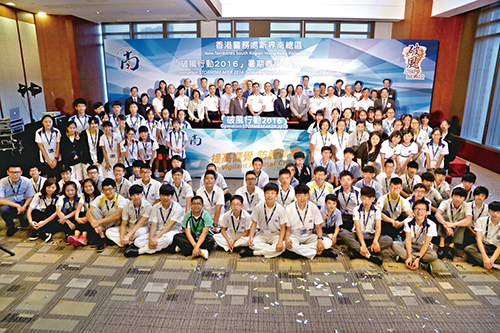 New Territories South Region continued to run Operation STORMBREAKER to fight youth crime.
New Territories North Region
In 2016, New Territories North Region saw the number of crimes drop by 9.2 per cent, reaching a record low of 12,415. Significant decreases were recorded in prevalent crimes such as telephone deception (-64.9 per cent) and naked-chat blackmail (-33.6 per cent).
The Region continued to strengthen ties with its existing stakeholders and partners, while also looking to build new partnerships with other sectors of the community. Various community engagement projects were launched by Police districts, each aimed at engaging more closely with young people, schools and NGOs. One of these, Project ENCOUNTER, provides a platform for communication between students, teachers, parents and police officers in Yuen Long District, sharing youth development initiatives and crime prevention messages. Tai Po District collaborated with the Rehabilitation Unit of the Correctional Services Department to arrange for rehabilitated young offenders to visit schools and share their personal stories with students. The Regional Crime Prevention Office partnered with the property management sector in launching Project LINKGUARD, aimed at enhancing the process of gathering intelligence.
Yuen Long District has a large NEC community. It continued running Project HIMALAYA, which provides training to young NEC men and women with an interest in joining the Police, helping them enhance their language proficiency, boost their communication skills and improve their self-confidence. Noting an upsurge in the NEC community in the Tuen Mun area, Tuen Mun District launched Project DIVERSITY with a view to better engaging the NEC community there and helping them integrate smoothly into the local community.
The Region continued to collaborate closely with its Mainland counterparts to combat illegal immigration and guarantee the security of the boundary. Two joint departmental operations, Operation FRESHRAY and Operation ICESPLITTER, were conducted during the year targeting illegal immigrants trying to sneak into Hong Kong by hiding under trucks at boundary control points.
In addition to its crime prevention and engagement activities, the Region also devoted resources to enhancing the professionalism of frontline officers in its operation units. Project SMARTTROOP was launched to strengthen the tactical skills and overall preparedness of frontline officers in handling cases involving people who are mentally disordered or violent.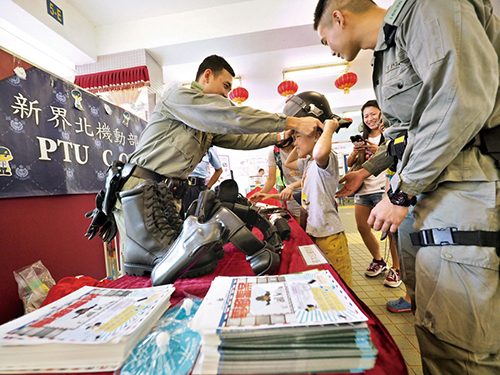 PTU New Territories North officers introduce their equipment to members of the public at a community event.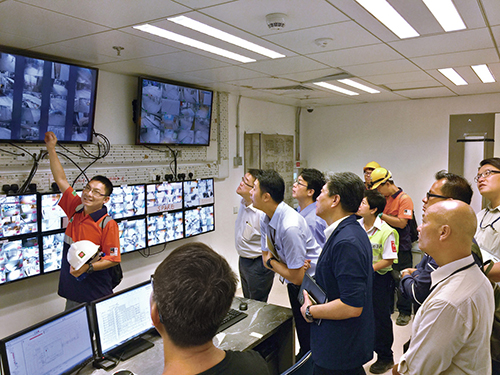 Officers on a site visit to view the security system of a housing estate under Project LINKGUARD.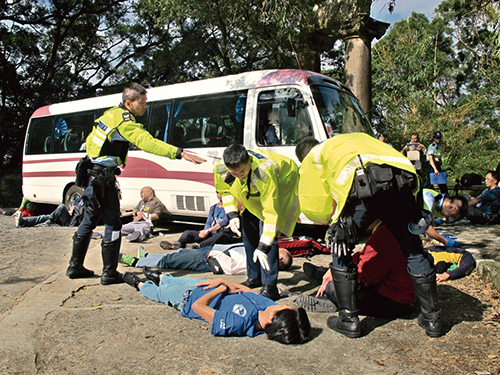 Traffic New Territories North officers participating in an exercise simulating a serious traffic accident.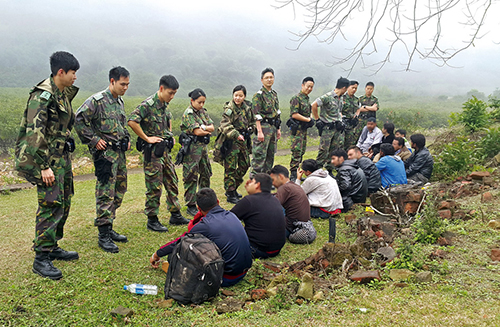 Illegal immigrants after their arrest in a country park by officers of the Quick Reaction Force New Territories North.
[ Top ]