OBITUARY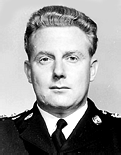 George James Batts
1929 - 1997
GEORGE James Batts, holder of the Colonial Police Medal for meritorious service to the Government of Hong Kong and the Hong Kong Police Force from which he retired in the rank of senior superintendent in 1976, passed away peacefully on 22 August 1997 at the Royal Sussex County Hospital, Brighton. He was 68 years old.
¡@While playing lawn bowls Jim suddenly collapsed from a mild stroke and died later of a massive coronary. This came as a complete shock to all who knew him, particularly to his wife Pat and their children. There was no prior indication nor warning. To all intents and purposes Jim was healthy, full of life and enjoying retirement. He was in fact doing what he enjoyed before he collapsed.
¡@Mr Batts joined the Hong Kong Police in 1952 as a probationary sub-inspector and during the course of a distinguished career was promoted to senior inspector in 1961 and, a year later, to assistant superintendent. In 1965 he advanced in rank to superintendent and became a senior superintendent in 1973.
¡@Jim's career in the Force was wide and varied. He served in three territorial police districts, the CID, Special Branch and in various staff appointments. When he retired, Senior Superintendent Batts was in charge of Administration for Hong Kong Island.
¡@He distinguished himself during his tenure of office in the Statistical Branch of the Criminal Investigation Department and again while divisional detective inspector in Marine.
¡@Jim's valuable service to the Force was recognised by his receipt of two Commissioner's Commendations and, in the 1974 New Year Honours List, by the Colonial Police Medal for Meritorious Service. In 1971 he was awarded the Colonial Police Long Service Medal.
¡@Throughout his service, Mr Batts played an active part in Force recreational and social life. According to those who knew him, he was a great raconteur and a teller of tales - his jokes weren't bad either. Jim was always good company.
¡@When he retired, Mr Batts joined the Royal Hong Kong Police Association in the UK and became an active member. Concerned about memorabilia of the history of the R H K P Force since 1841 left behind in Regional and District messes and in police stations around Hong Kong, Jim was determined to gather together what he could. An exhibition of the like set up by Mr Batts during the 1996 Royal Hong Kong Police Association spring reunion in Bournemouth was greatly received by all who attended.
¡@Said his wife during cremation service eulogies: "Jim will be sorely missed. He enjoyed life to the full, had a wonderful sense of humour and could appreciate a good joke - even at his own expense. I will remember him as a hard-working, loyal and dedicated police officer and friend with a strong personality and character who served the Royal Hong Kong Police Force to the best of his ability for 24 years.Ó