¡@The men's singles (Division B) final was a breakthrough for the new generation of young singles players with Pun Chung-wing (YL DIV) overcoming a slight hiccup in the first game to exhaust opponent Wan Tai-mun (CP DIV). Wan could not match the speed and agility of Pun and was beaten in straight games 18-14, 15-8.
¡@In the women's singles, Lo Yuen-yi (ITB) was up to the task of retaining her title for the second successive year. She overwhelmed Szeto Oi-lin (WTS DIST) by 13-9, 11-0, to win the title.
¡@The men's doubles title was again taken by reigning champions Hui Chun-tak (MP) and Chak Wing-wah (ME DIV), who put on a commanding display of powerful smashes and lightning reflexes to beat Lau Kwan-lap (EU NTS) and Leung Siu-kwong (T KE) 18-15, 15-5. This was the duo's third consecutive win in as many years.
¡@In the ladies' doubles, Tong Yee-man (C DIST) and Lai Mei-wah (K RCCC) were just too good for their opponents Tsiang Mong-yee (T KE) and Yip Kit-ching ( T HQ). Final score: 15-2, 15-4.
¡@A new-sprung event this year for forty something and above players, the seniors' doubles title went to Chun Chi-wah (PTU HQ) and Chu Chi-wai (TKL DIV) who beat Tsui Ping-wah (PR PHQ) and Wong Kang-tim (KE HQ) 15-5, 15-5.
¡@The most exciting and challenging match of the competition, which had the audience cheering for both sides, was the seniors' double encounter for 2nd runners. It went to Leung Kwok-chun (RCCC M) and Lee Chee-tim (WCH DIV), who had to fight for every point to overpower stubborn opponents Chow Keng-kan (W DIST) and Ho Wing-fu (CRIME M) in three hard fought games: 10-15, 15-10, 18-14. Their patience, perseverance, experience and determination were the deciding factors in this remarkable encounter.
¡@In the mixed doubles final, the title went to Kan Shu-keung (T NTN) and Lai Mei-wah who beat their equally assertive opponents Hui Chun-tak and Tsiang Mong-yee (T KE) in two straight games: 15-12, 15-10. Kan won seven consecutive men's singles titles up to 1993 and collected his eighth singles title last year. Meanwhile, Lai Mei-wah distinguished herself as this year's most outstanding player.
¡@Prizes and trophies will be awarded to all winners and runners-up during the upcoming Annual General Meeting of the Police Badminton Club 97/98.
Sau Mau Ping JPCs in dream match with South China idols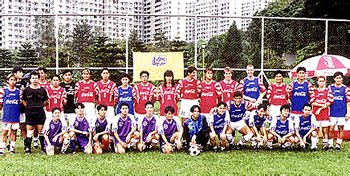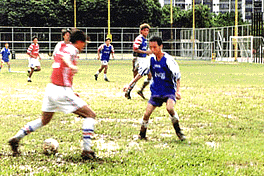 JPC members pose with the stars of South China after playing a soccer match with them
LAST month stars of the South China football team, wearing their traditional red shirts, met with members of Sau Mau Ping Junior Police Corps at the Morse Park Stadium in Wong Tai Sin for a display of football skills and a friendly match that left a crowd of more than 300 spectators calling for more.
¡@For many of the young JPCs it was a dream come true, a chance to play the champions of the local soccer league - and get autographs from such football luminaries as Hong Kong Football Player of the Year Au Wai-lun, Hong Kong national representatives Dale Tempest, Leslie Santos, Lee Kin-wo and Ku Kam-fai.
¡@Also on hand to kick the ball around were team mates Brazilian defender Aurelio Da Silva, Yugoslavian midfielder Ignjic Radislav, English goalkeeper Liam Hesford, and China national representatives Wu Qunli and Sung Lin-yung.
¡@Just back from a special training session in Taiwan, the South China stars were in top form displaying their gamesmanship to the audience of mainly JPC members and Sau Mau Ping District staff in a series of deft football exercises and talented demonstrations.
¡@Also on hand to witness the game, which saw an outstanding performance from the JPC members' team earn themselves a respectable 4 to 1 defeat, were the District and Deputy District Commanders of Sau Mau Ping, CSP K S Pearce and SSP Choi Kin-cheung.