The Chief Executive (CE), Mrs Carrie Lam, accompanied by the Secretary for Transport and Housing, Mr Frank Chan Fan, the Secretary for Food and Health, Professor Sophia Chan, and the Secretary for Development, Mr Michael Wong, respectively, visited police officers stationed at the Central Government Offices (CGO), Yuen Long District, Wong Tai Sin District, Western District and Kwun Tong District in August to learn more about their work on the frontline. The CE chatted with officers from different police districts. The officers took the opportunity to express their views on different issues to the CE.

On August 8, the CE, accompanied by Hong Kong Island Regional Commander Kwok Pak-chung, had a frank exchange with officers of Hong Kong Island and New Territories South Regions at the CGO. The CE expressed her gratitude to all police officers for upholding the rule of law in an extremely trying situation. Apart from voicing their support for the Government, the officers also raised their concerns about the operation and welfare issues. The CE pledged that the Government would provide feasible assistance of all kinds, and immediately followed up on the suggestions raised by the officers to arrange additional rest area for officers stationed at the Government House.

On August 9, the CE, accompanied by Commissioner Lo Wai-chung and some government officials, visited officers of Kowloon East Region in Wong Tai Sin Police Station. They then inspected the Wong Tai Sin Disciplined Services Quarters, which was earlier besieged and damaged by violent protesters. They noted that, among other things, the gate was vandalised and the windows of several storeys were smashed. The CE said she has asked the departments concerned to take immediate follow-up actions to repair the damaged areas, while Commissioner Lo Wai-chung assured that security measures have been enhanced and more manpower has been deployed for patrolling around the quarters, to safeguard the well-being of residents. The CE said she was outraged by the malicious attack by a mob on residences and thanked police officers for their dedication to defending Hong Kong's law and order.

The CE said the Government would fully support the work of the Force. It is hoped that police officers will continue to stand fast at their posts and take resolute actions to enforce the law with a view to restoring peace in society.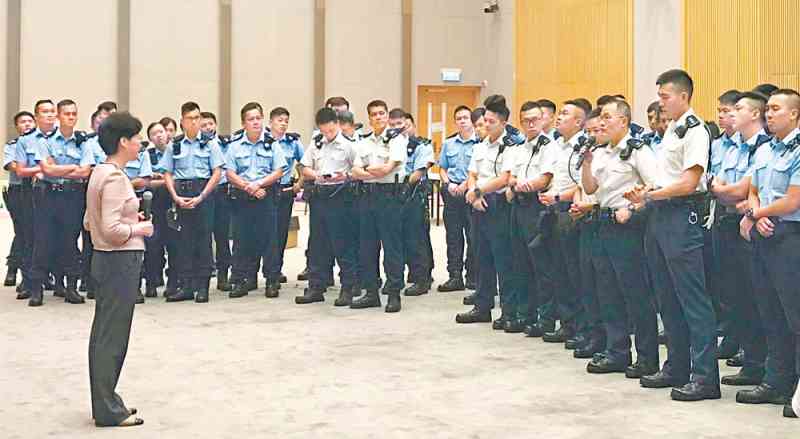 The Chief Executive, Mrs Carrie Lam, visits police officers stationed at the Central Government Offices to learn more about their work on the frontline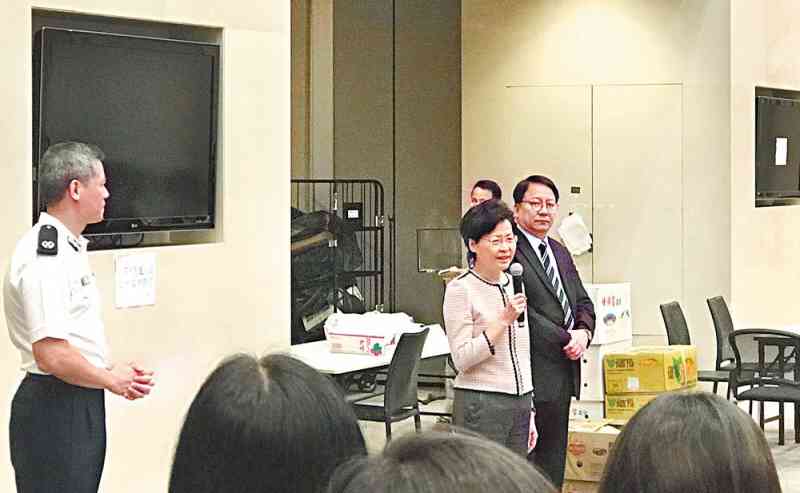 The Chief Executive, Mrs Carrie Lam (second left), expresses her gratitude to police officers for their dedication to upholding the rule of law in an extremely trying situation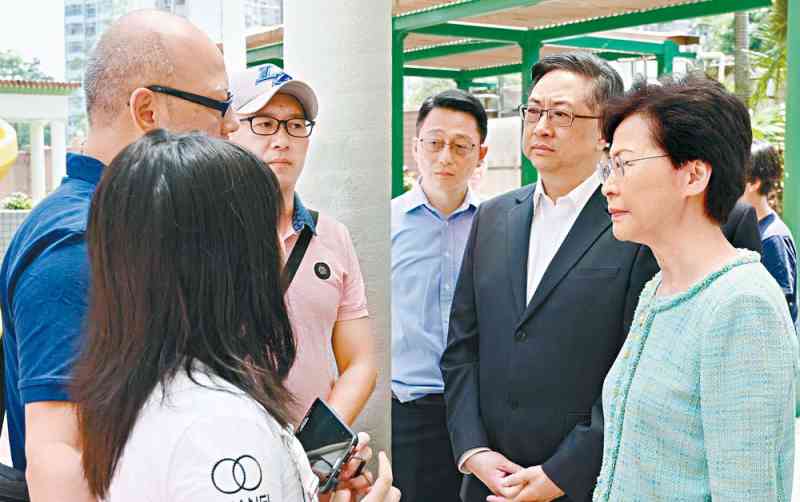 The Chief Executive, Mrs Carrie Lam (first right), accompanied by Commissioner Lo Wai-chung (second right), learns more about the damage by a mob to the Wong Tai Sin Disciplined Services Quarters