Hong Kong Police Review 2017
WE SERVE WITH PRIDE AND CARE
[ Foreword ] [ Memorable Events ] [ The Hand of Partnership ] [ Operations ] [ Regional Commanders' Report ] [ Personnel and Training ]
[ Management Services ] [ Finance, Administration and Planning ] [ Environmental Report ] [ Organisation ]
[ Appendices ]
Vision, Common Purpose & Values
Vision
That Hong Kong remains one of the safest and most stable societies in the world
Common Purpose
The Hong Kong Police Force will ensure a safe and stable society by:
> upholding the rule of law
> maintaining law and order
> preventing and detecting crime
> safeguarding and protecting life and property
> working in partnership with the community and other agencies
> striving for excellence in all that we do
> maintaining public confidence in the Force
Values
> Integrity and honesty
> Respect for the rights of members of the public and of the Force
> Fairness, impartiality and compassion in all our dealings
> Acceptance of responsibility and accountability
> Professionalism
> Dedication to quality service and continuous improvement
> Responsiveness to change
> Effective communication both within and outwith the Force
Foreword
Mr Lo Wai-chung
Commissioner of Police
The year 2017 marked the 20th Anniversary of the Establishment of the Hong Kong Special Administrative Region, during which the city held a series of celebratory events and was privileged to receive an official visit from President Xi Jinping. At this crucial time, the Hong Kong Police performed exceptionally. This review not only recounts memorable events of the year, but also covers our day-to-day work and accomplishments in operations and management across the year. In its entirety, it paints a vivid picture of the unswerving commitment of our Force members in serving the people of Hong Kong throughout 2017.
Maintaining law and order
Maintaining law and order is our first and foremost responsibility. The continually improving crime figures have favourably reflected the concerted efforts of our officers in preventing and detecting crime. In 2017, the overall number of crime cases was 56,017, representing a decrease of 4,629 cases or 7.6 per cent when compared with 2016. This total now stands at its lowest point since 1975. For every 100,000 people, there were 758 crime cases reported, a record low since 1971. Further, the number of violent crime cases was 9,086, representing a decrease of 1,017 cases or 10.1 per cent when compared with 2016. This figure also dropped to its lowest level in the last 45 years.
Ensuring public safety
Ensuring public safety is another vitally important police duty, notably in the management of public order events. In 2017, a total of 11,811 public order events were held, made up of 10,608 public meetings and 1,203 public processions. The vast majority of these events were conducted in a peaceful and orderly manner. Looking ahead, we will continue to work closely with event organisers in order to facilitate all peaceful and lawful public order events in an impartial manner.
At present, the terrorist threat level for Hong Kong remains at 'Moderate', which means that there is no specific intelligence suggesting that Hong Kong is likely to be a target of terrorist attacks. Nevertheless, based on threat assessment, the Force conducted several counter-terrorism security operations during some major events this year. The hard work of our colleagues and the co-operation of the public ensured that all these operations were concluded successfully, allowing smooth and safe completion of the events. To prevent terrorist attacks in Hong Kong, we are continuing to monitor the global and regional terrorist situation closely and raise public awareness of terrorism.
In 2017, we saw decreases in both the number of traffic accidents involving injuries and the number of deaths caused by traffic accidents. However, road safety remains an issue of serious concern, and we will continue with our current multi-agency approach to prevent traffic accidents and maintain smooth traffic flow on our roads.
Sustainable development
Over the years, a number of infrastructure projects have been planned and implemented in line with the Force's development. In 2017, we successfully converted the former Fire Services Training School into the JPC@Pat Heung. The activities at this centre are organised with a view to nurturing our Junior Police Call members to become law-abiding citizens, as well as fostering their leadership skills and social responsibility. We were tremendously proud and greatly encouraged when President Xi Jinping expressed his endorsement for the objectives and facilities of the centre during his visit to the venue in late June 2017.
In addition, a ground-breaking ceremony for the new Kowloon East Regional Headquarters complex in Kowloon Bay was held in March 2017, while the Tseung Kwan O Police Division was formally upgraded to a Police District in July 2017. I am sure these forward-looking projects will be instrumental in helping to meet the future policing demands that will arise from the development of Kowloon East.
People-oriented workforce
There is no doubt that our people are our most valuable and important asset. To cope with the ever-changing needs of our society, we strive for continuous enhancement of the professional abilities of our officers through structured training. Apart from developing and delivering our own in-house training programmes, we also run courses in partnership with prestigious institutions like the University of Cambridge. Our International Executive Development in Policing Programme, co-organised with the Canadian Police College, has recently been accredited at Level 6 under the Qualifications Framework, the same level as a Master's Degree. The Force is the first Government department to have been accredited to operate a programme at this level. I truly believe that our investment in training resources will translate into quality services that will better serve our community.
The Force is also committed to promoting social responsibility and a caring culture. In recent years, over 5,000 police volunteers in different teams have delivered over 100,000 hours of voluntary services annually to different sectors of the community. We were once again awarded the 10 Years Plus Caring Organisation Logo by the Hong Kong Council of Social Service in 2017, as well as clinching a number of other awards for our volunteer services. These achievements reflect the fact that, apart from delivering top-notch professional services to the public, members of the Force are always keen to help those in need in the community in different capacities.
Conclusion
In 2017, both the Hong Kong Police and the community as a whole experienced an event-filled year. Throughout the year, the Force maintained a safe environment and upheld law and order for the people of Hong Kong, something that could not have been achieved without the commitment, teamwork and devotion of all members of the Force. When I recall the hard work of my colleagues over the year, I feel a deep pride in their outstanding performance and the contributions they have made to Hong Kong.
Hong Kong and its neighbouring regions will face a continually changing environment in coming years that will make our work more difficult. However, the Force's fine longstanding tradition of "Serving with Pride and Care", together with the unreserved support we enjoy from our community, gives me confidence that we will overcome all challenges that may arise and ensure that Hong Kong remains one of the safest and most stable cities in the world.

Commissioner Mr Lo Wai-chung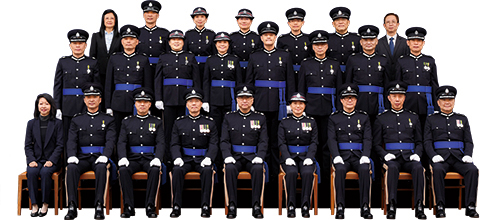 Force senior officers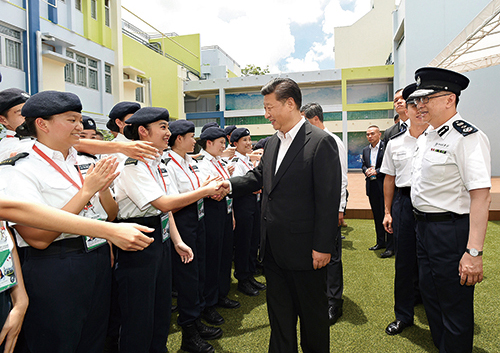 President Xi Jinping (centre), accompanied by Commissioner Lo Wai-chung (first from right), meets with Junior Police Call members.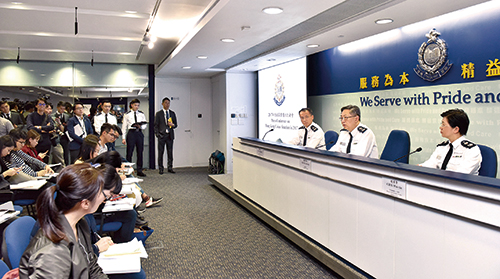 Commissioner Lo Wai-chung (centre) reviews the crime situation in 2017 at a press conference.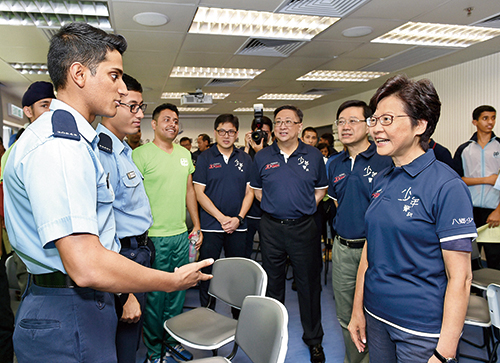 The Chief Executive, Mrs Carrie Lam (first from right), accompanied by the Secretary for Security, Mr John Lee (second from right), and Commissioner Lo Wai-chung (third from right), chats with non-ethnic Chinese members of the Force.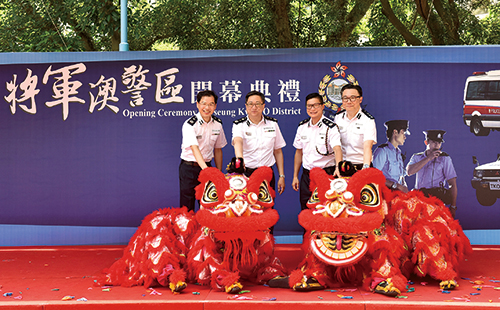 Commissioner Lo Wai-chung (second from left) officiates at the Opening Ceremony of Tseung Kwan O Police District.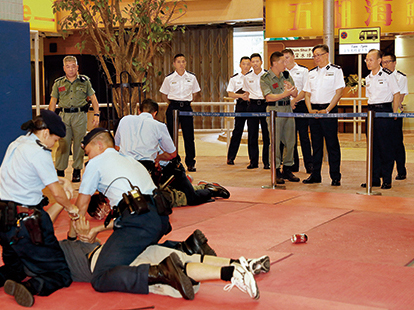 Commissioner Lo Wai-chung learns about the training to new recruits in the Aberdeen campus of the Hong Kong Police College.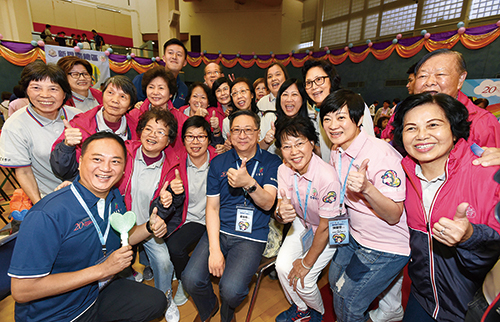 Commissioner Lo Wai-chung is pictured with members of Senior Police Call members at a Senior Police Call event.

Commissioner Lo Wai-chung is pictured with members of Police Volunteer Service Corps.
[ Top ]