Secretary for Security (S for S) Mr John Lee praised over 30 000 Force members at a passing-out parade at the Police College on April 13 for their dedication to serving the community and maintaining a stable law and order situation in Hong Kong, making it one of the safest cities in the world.

Speaking at the event, Mr Lee said that a total of 54 225 crime cases were recorded in Hong Kong in 2018, down by 3.2 per cent when compared with 2017. The figure was the lowest in 45 years. The number of crimes per 100 000 population in 2018 stood at 728 cases, a decrease of four per cent when compared with 2017, and was a record low in the past 49 years.

Mr Lee noted that the situation of global terrorism has become increasingly complex in recent years. Although the threat level of Hong Kong being subject to terrorist attack is "moderate", he said that the Government must stay vigilant and continuously enhance the city's capability and preparedness to combat terrorism. He added that the Inter-departmental Counter-terrorism Unit (ICTU) established by the Security Bureau last year held its first large-scale counter-terrorism exercise in March to strengthen Hong Kong's counter-terrorism deployment and capability.

Mr Lee hoped the graduates would uphold the Force's values and fine tradition, remain steadfast in their duties and reinforce the achievements of the Force made in the past 175 years to ensure a stable law and order situation in Hong Kong.

A total of 34 probationary inspectors (PIs) and 194 recruit police constables graduated on that day.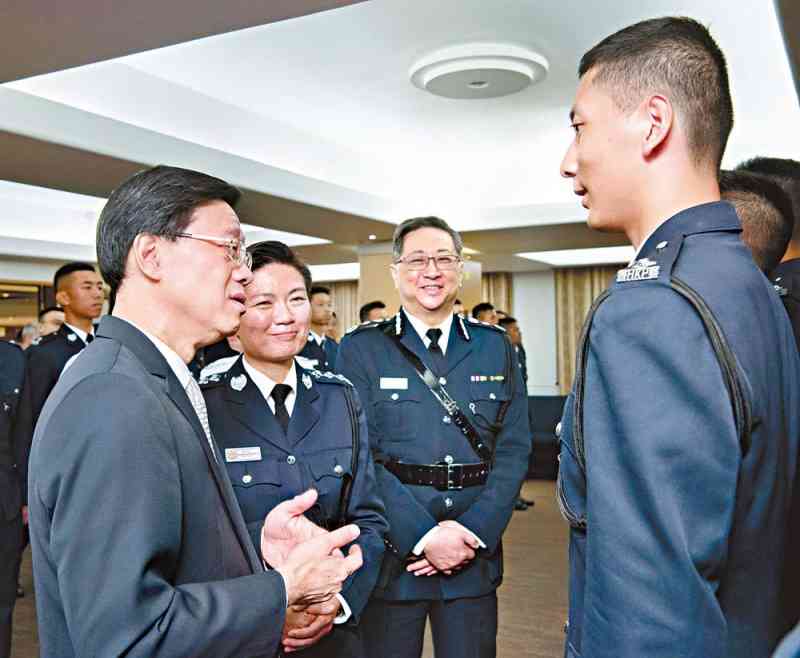 Mr John Lee (first left), accompanied by Commissioner Lo Wai-chung (second right), congratulates the PIs after the passing-out parade
---
Members of OffBeat Editorial Committee:
| | |
| --- | --- |
| Mr John TSE | CSP PPRB (Chairperson) |
| Ms Jessica WONG | PIO PP PPRB |
| Mr Kenny WONG | ATSRO NTN |
| Ms Angela LAI | TSRO MAR |
| Mr Henry LEUNG | CIP SR 1 |
| Ms Jay TAM | SIP A&S HKPC |
| Ms Janice YEUNG | SIP HQ (4) CRM |
| Mr Frankie LEUNG | JPOA REP |
| Ms Grace NG | EO CSR A |
Editor:
Ivy Leung: 2860-6171
Reporters:
Dickson Choi: 2860-6172
Susanna Ho: 2860-6173
Photographers:
Hugo Lam: 2860-6174
Lam Yu-san: 2860-6175
Fax:
2200-4309
Address:
10/F, Arsenal House, Police Headquarters,
No.1 Arsenal Street, Wan Chai, Hong Kong
Internet:
www.info.gov.hk/police/offbeat
Email:
sio-off-beat-pprb@police.gov.hk
Deadline for Issue 1135:
May 9, 2019 (before 6 pm)

Deadline for Issue 1136:
May 23, 2019 (before 6 pm)


Procedures for submission of articles can be viewed through the hexagon of OffBeat on Police Intranet (POINT).

Published by the Police Public Relations Branch, Hong Kong Police Force